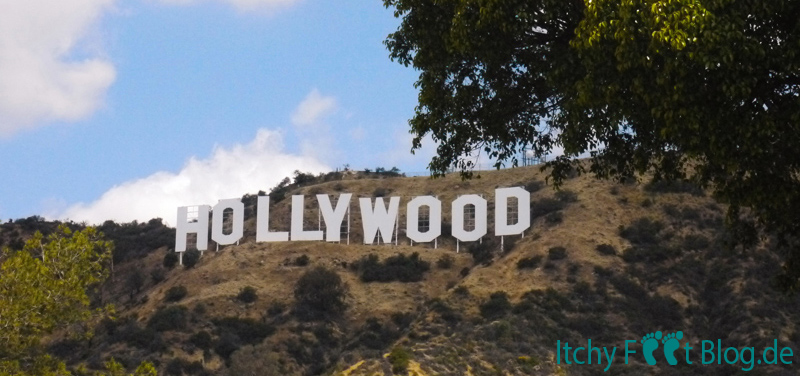 Unsere erste Station auf unserem Road Trip und somit auch der Zielflughafen unserer Reise war Los Angeles, California. Die Unterkunft für die kommenden drei Nächte hatten wir bereits im Vorfeld über airbnb gebucht, da die Übernachtungspreise in amerikanischen Großstädten nicht gerade niedrig sind. So hat man doch noch die Möglichkeit, relativ zentral, unter 50 USD/Nacht/p.P. zu übernachten.
Zwei Tage sind für L.A. schon sehr knapp bemessen. Es kommt natürlich auch immer darauf an, welche Ansprüche man auf so einem Trip stellt. Unseren ersten Tag widmeten wir den klassischen Touristen Spots der Stadt: Das Hollywood Sign, der Walk of Fame und eine "Starhunting-Tour" durch Beverly Hills.
Bei gutem Wetter lohnt sich der Aufstieg zum Hollywood Sign. Wenn man einen Mietwagen hat, kommt man mit dem Auto bis zu einem Parkplatz im Deronda Drive und kann von dort zu Fuß (ca. 25 Minuten) durch einen "Park" bis hoch zu einem kleinen Aussichtspunkt, hinter dem Hollywood Sign. Hier hat man eine ganz schöne Sicht über L.A. Auf dem Weg sollte man ausreichend Wasser mitnehmen und nicht abseits der Wege laufen, hier gibt es Klapperschlangen.
Im Anschluss stürzten wir uns in das Getummel auf dem Hollywood Blvd. Neben einigen Shopping Malls und Dutzenden Souvenir Shops, findet man hier den Walk of Fame, der sich über unzählige Blöcke, hauptsächlich über den Hollywood Blvd. aber auch noch weitere Straßen erstreckt. Hier sind bis heute die Namen von mehr als zweitausend Prominenten aus verschiedenen Unterhaltungskategorien in einem roten Stern im Asphalt verewigt. Mit etwas Glück bekommt man sogar zu einer Filmpremiere den roten Teppich zu sehen, über den die Stars dann am Abend in Richtung des Filmtheaters schreiten. Während unseres Besuchs des Boulevards, waren die Aufbauarbeiten für die abendliche Premiere von "Alice Through the Looking Glass" im El Capitan Theater im vollen Gange.
Eine Tour durch Beverly Hills sollte man sich nicht entgehen lassen. Es gibt entweder die Möglichkeit dies in innerhalb einer gebuchten Hollywood Tour zu machen oder so wie wir, mit dem eigenen Mietwagen. Das hat den Vorteil, dass man alles selbst erkunden kann und natürlich einige Dollar spart. Wer ein bisschen im Internet recherchiert bekommt die ein oder andere Adresse eines Stars heraus, das macht die eigene Tour natürlich spannender. Man muss sich allerdings von dem Gedanken verabschieden hier mehr zu sehen als das Tor einer langen Auffahrt oder eine dichte Hecke. Viele der Stars wohnen in Privatstraßen, in die man nicht hineinfahren darf, ein gebuchter Hollywood Bus auf seiner Tour natürlich auch nicht. Die Villa von Eddie Murphy kann man von einem höher gelegenen Hügel etwas einsehen und auch Nicolas Cage lebt nicht ganz so verschanzt wie manch andere Stars. Man kann hier wirklich viele Stunden damit verbringen durch diese Nachbarschaften zu fahren denn man kommt hier aus dem Staunen einfach nicht mehr heraus.
Fast einen ganzen Tag kann man für die Universal Filmstudios einplanen. Den kompletten Artikel hierzu findet ihr hier.
Aussichtspunkte:
Klickt auf die Marker, um die Adressen zu sehen. Die Sicht am Hollywood Bowl Overlook und das Griffith Observatory sind besonders bei Dunkelheit beeindruckend. Man sollte allerdings bis 22.00 Uhr hier gewesen sein, da beide Punkte geschlossen und bewacht werden. Am Hollywood Bowl Overlook hat man aber auch von der Straße aus eine sehr gute Sicht auf ganz Los Angeles.
Restaurant Tipps:
Frühstück: Bagels
Eine gute leckere Auswahl an Bageln, die auf Wunsch mit vielen frischen Zutaten belegt werden können, gibt es hier:
Mittagessen/Abendessen (Gute Restaurantketten):
In den Großstädten hat man die größte Auswahl an Essensmöglichkeiten. Für einen Snack am Nachmittag oder für ein günstigeres Abendessen lieben wir die nachstehenden Fast Food Ketten:
Abendessen:
Es gibt zahlreiche Möglichkeiten koreanisch zu essen. Bei einem BBQ (oftmals all you can eat) steht ein Grill in der Mitte des Tisches, auf dem man sich verschiedene Fleischsorten und Gemüse selbst zubereiten kann. Yelp hilft dabei das passende Restaurant in der Nähe zu finden. Die meisten Optionen findet man in Downtown L.A.
Das könnte dich auch interessieren: